Giving Back – how important is a mother? How wonderful a child?
Good mothers, caring mothers cause us to grow and be good and caring too. Motherhood can change the world. And each child can in turn return the favor. As a mother myself, and as a daughter, I see part of my mission in life is to change the world. To give a hand up to others, especially young children and women in need. I learned to give back at home, from my mother. I learned what being cared for means, and what caring for others means. I have taken my mother's lessons and applied them to my life – much of which has been in India.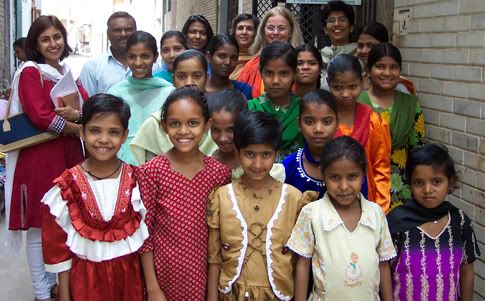 India is a country rich in many things, textiles, skills, crafts, beauty, culture, wildlife and history. But it is also a country that is still beset by poverty, and where there is a large population of desperately poor people. People too poor to watch their children, people too uneducated to educate their children, people needing a hand up to success, a hand up to opportunity.
In the slums of Delhi there are some wonderful women and men who have reached into their hearts and into their pockets, to make a difference. In simple open street schools first generation learners – of 5 and 6 years old, are learning the alphabet and changing their legacy, learning to write and opening doors of opportunity. Safe in a small circle of care and respect, these little children, for a few hours every day, can play as a child should play, imagine and develop as all children should. These are the Gali Schools and I and my company have been involved in them through The
Giving World Foundation
for many years.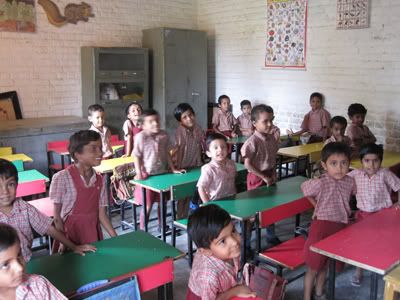 When I see a little boy or girl with hair brushed straight, smile bright, waving hands enthusiastically at the teacher; I see the future more positively, and I know that I have made a difference. I know that my mother would be proud of that, too!
In all seriousness and sincerity when you buy a little girl's dress from my company, you are also supporting the dreams of a little child far away, a child who will laugh like your child, play like your child and read and write as all children should.
Thank you for buying our clothes, and supporting our company. We take our mission to Feel Beautiful, Live Beautiful and Be Beautiful very seriously.
Happy Mother's Day,
To learn more about the Giving World Foundation go to: