My birthday was this past Wednesday, April 28th , right in the middle of the week – perfect for a week-long celebration! In our Burlington, Vermont office, the April Cornell team enjoyed a wonderful birthday lunch in our kitchen / dining room overlooking beautiful Lake Champlain in springtime. Our big natural wood dining table was set with the calm blue of our
Shannon Patchwork tablecloth
surrounded by an eclectic set of mix 'n match chairs. Sitting or standing, fresh fruits, salads, a selection of Vermont cheeses and baguette breads were shared as glasses clinked in celebration. Following all this was a beautiful traditional confetti white cake with ambrosia orange frosting!! I call this "The Birthday Cake of Dreams"!!! Three tiers of perfectly layered cake is covered with smooth frosting and decorated with paintings of my flowers and birds, rendered in food coloring "paint"! This moist and decadent cake was made all the more delicious served surrounded by smiles and songs of 'Happy Birthday'.
Spread sweet sentiments at your next birthday event and whip up this fabulous cake!
The Cake was made by doubling this recipe:
Ingredients
· 1 cup white sugar
· 1/2 cup butter
· 2 eggs
· 2 teaspoons vanilla extract
· 1 1/2 cups all-purpose flour
· 1 3/4 teaspoons baking powder
· 1/2 cup milk
· 1/4 cup rainbow jimmies
Directions
1. Preheat oven to 350 degrees F (175 degrees C). Grease and flour a 9x9 inch pan or line a muffin pan with paper liners.
2. In a medium bowl, cream together the sugar and butter. Beat in the eggs, one at a time, then stir in the vanilla. Combine flour and baking powder, add to the creamed mixture and mix well. Add the rainbow jimmies and fold slightly to spread them through the mix. Finally stir in the milk until batter is smooth. Pour or spoon batter into the prepared pan.
3. Bake for 30 to 40 minutes in the preheated oven. For cupcakes, bake 20 to 25 minutes. Cake is done when it springs back to the touch.
The frosting was made by doubling this recipe:
Ingredients
· 1 bag powdered sugar
· 1/2 cup Crisco
· 2 tablespoon orange extract
· 3/4 cup milk (add milk until desired consistency is achieved)
Directions
1. Combine powdered sugar, Crisco, orange extract, 1/2 cup milk. Mix with mixer on medium speed. Add milk in small doses until desired consistency is achieved.
NOTE for frosting cake the consistency should be light and fluffy. For piping and decoration the consistency should be stiff enough to hold shape.
To get a smooth surface after frosted, dip knife in hot water to warm blade and smooth over surface.
To paint – use bright vivid food colors and a fine paint brush. To give a water color effect, swirl brush in water before dipping in food color to soften the effect.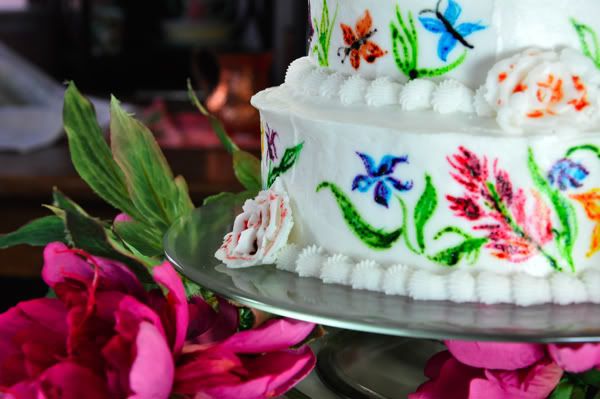 Enjoy!
Feel Beautiful, Be Beautiful, Live Beautiful