Warm breezes are hinting at the bright sunshine to come. As we plant the seeds of spring and look forward to tomorrow's summer gardens, what better way to enjoy the promise of the warm season than with a fabulous summer dessert? Here's a favorite – Peach Ginger Crisp! Using fresh ingredients makes this recipe simply irresistible – sweet and juicy peaches marry beautifully with the pungent flavor of grated ginger (the heady aromas you'll enjoy while preparing this dessert are testimony enough!) and the hardy crunch of sliced almonds, oats and brown sugar will have everyone coming back for more. Since this dish is inspired by the anticipation of fresh fruits from a summer orchard, it's featured on our delicious
Chelsea tablecloth
in pale yellow with lots of coordinating
Essential napkins
for those lip-smacking moments!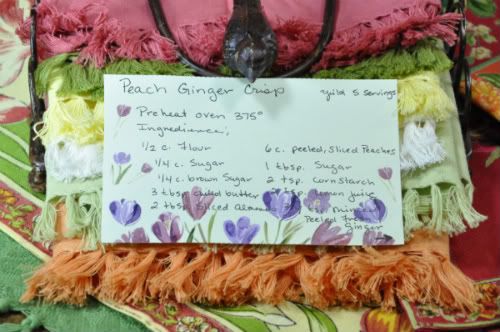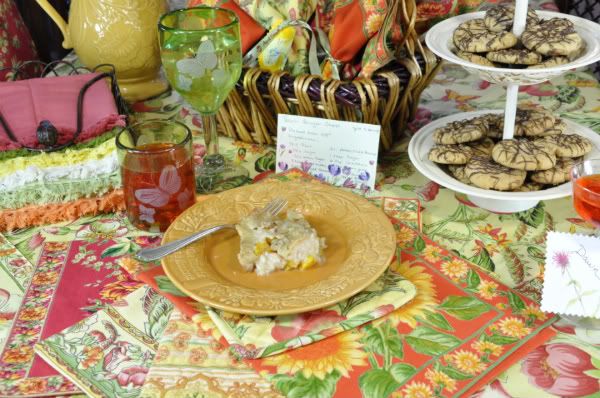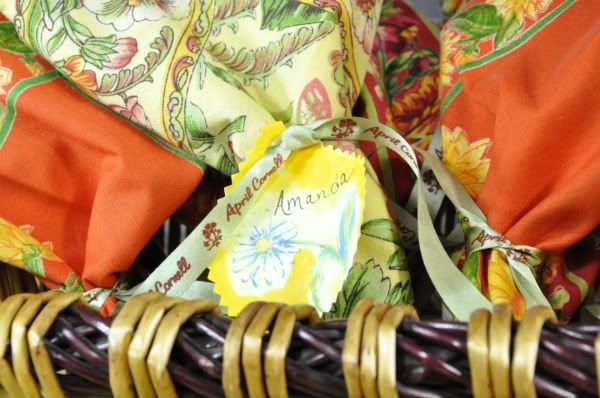 Enjoy this easy country recipe with ice cream or whipped cream and savor spring and summer flavor all year long!
~April
Yield: 5 servings (serving size: 1 cup)
Ingredients
• 1/2 c quick-oats
• 1/2 cup all-purpose flour
• 1/4 cup granulated sugar
• 1/2 cup packed brown sugar
1/8 teaspoon baking powder
1/8 teaspoon baking soda
• 1 / 4 c melted butter
• 3 tablespoons sliced almonds, toasted
• 6 cups sliced peeled peaches (about 3 pounds)
• 1 tablespoon granulated sugar
• 2 teaspoons cornstarch
• 2 teaspoons lemon juice
• 1 teaspoon minced peeled fresh ginger
1 teaspoon allspice
Preparation:
Preheat oven to 350°.
Combine the flour, 1/4 cup granulated sugar, brown sugar, baking powder, baking soda and butter in a bowl mix until crumbly. Stir in almonds.
Combine peaches and remaining ingredients in a bowl. Spoon peach mixture into an 8-inch square baking dish. Sprinkle with flour mixture. Bake at 350° for 45 minutes or until lightly browned and bubbly.
Quick Hostess Tips:
Hand-written recipe cards are a great way to make a lasting impression on your guests.
After serving up a scrumptious dessert, write the recipe on a pretty printed card
so your friends can make and enjoy it again and again!
Try including a recipe card with a basket of fresh peaches, lined with printed napkins
and tied with a pretty ribbon for an outstanding gift!