This year, as a very unique and special birthday present, I was treated to a brand new experience – I visited a glass-blowing workshop here in Vermont and learned how to make some funky glass pieces. As I shaped and molded the hot molten glass, I could not stop smiling at the fun of it all. Having taken the time to learn this new craft, I find myself appreciating the beauty and color of glasswork, which in turn inspired this beautiful tablescape. The fluidity of glass evokes the beauty and whimsical nature of the sea, so this pretty round table is set with our
Happy Fish
print in pale yellow. Her smiles reflect my own enjoyment and the colorful floral scrollwork designs create a myriad of coordinating possibilities. The sparkling prisms of a finished glass piece remind me of the interwoven colors of our
Fiesta Plaid
, so a single twenty inch fringed napkin serves beautifully as a centerpiece. With such a wonderful array of colors to choose from, not one but four colors were paired –
Essential Napkins
in blue & coral and leaf green & tangerine – to layer on even more colorful fun! Cheered on by the beauty of glass, the clear red and yellow colors of our
Daisy Beaded Napkin Rings
were an obvious choice for the simple elegance of the napkins. Of course I couldn't resist using our Primavera mouth-blown glassware featuring etched butterflies along with some colorful bowls and dishes.
Whatever inspires you, feel it fully, enjoy it and let your imagination take you to beautiful new places and urge you to create – I promise you'll love the results!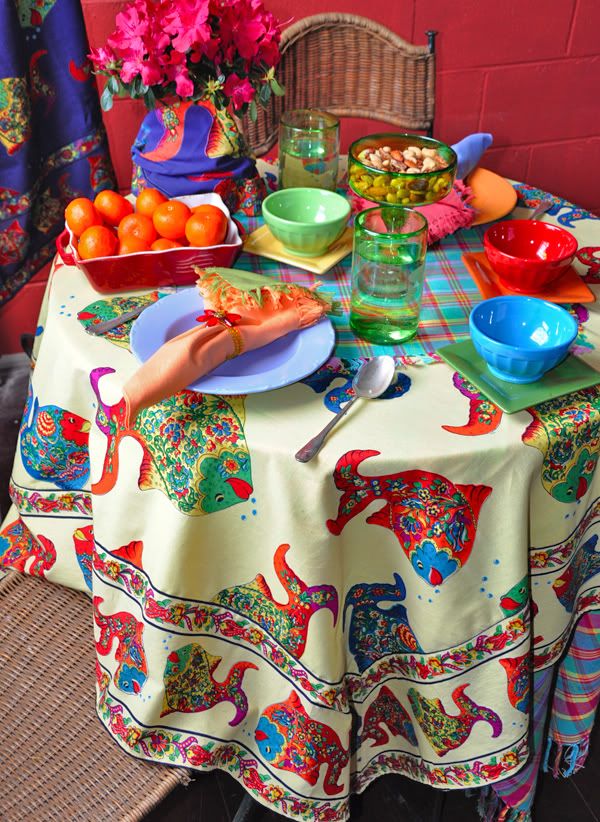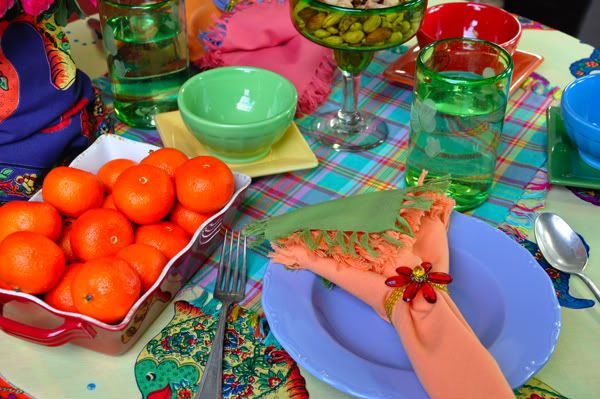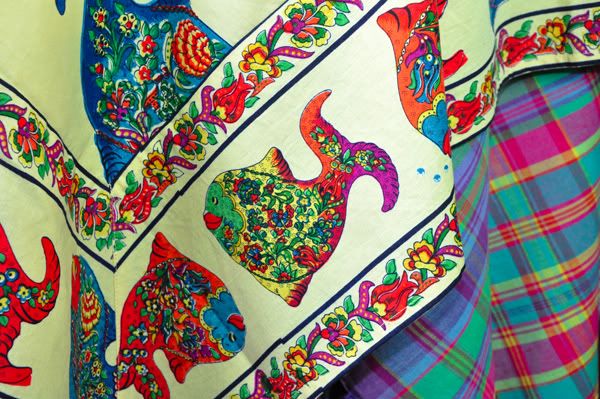 Quick Tip: This tablescape features some beautiful potted azaleas from our local garden shop. Rather than cut them to place in a glass vase, preserve the beauty of fresh flowers by leaving them in the pot and covering the base with a coordinating napkin or dishtowel! Simply fold the napkin diagonally and tie it around the width of the pot. You may also choose to secure it with a pretty ribbon for added charm!
Enjoy!
Feel Beautiful, Be Beautiful, Live Beautiful
Part of Tablescape Thursday